The smart, efficient solution for org charting
OrgPlus® RealTime: The online organizational charting software that delivers polished, easy-to-read, sharable org charts
Create board-room quality org charts
Access and update org charts from any browser
Share charts in Excel, PDF, PowerPoint or HTML
Customize with company logo and employee photos
Trusted by these companies
Which edition of OrgPlus RealTime fits your needs?
Express edition
The essential
org chart solution
A smart choice for charting up to 500 employees
Chart your organization with up to 10 customizable data fields
Import your data for creating quick, visually compelling org charts
View, search and update from any web browser
Publish and share org charts in Excel, PDF, PowerPoint or HTML
Professional edition
Data-rich online org
chart and planning tool
The insightful org chart and planning tool
View, search and update from any web browser
Publish and share in Excel, PDF, PowerPoint or HTML
Compile and visualize data from multiple systems to find strategic advantages for your company
Use extensive profile details and custom-filtered searches to gain insight from company data for decision making and better management of mergers and acquisitions
Make quick searches based on relevant criteria to identify key employees and high performers
Track and archive proposed changes to share with team members to model "what if" scenarios for potential company changes
Professional edition
Visualize powerful data about your workforce so you can truly see the big picture
Get online org chart software that brings insight to management decisions
Drag and drop to easily build and update org charts to facilitate planning
Use workforce planning to understand the total cost of your workforce and make more accurate projections
Establish a rating system to identify key employees and high performers, even track performance against goals
Visualize a wide array of metrics to make better decisions with a more-informed perspective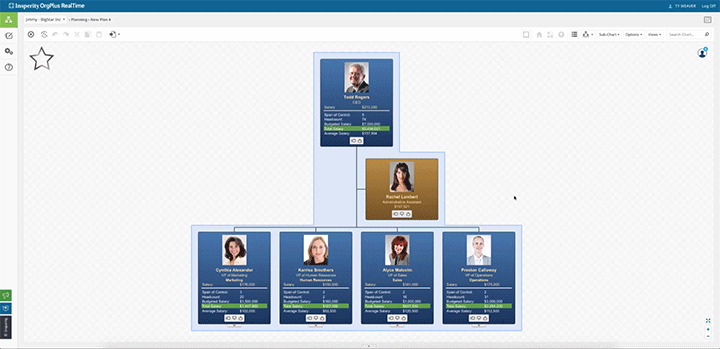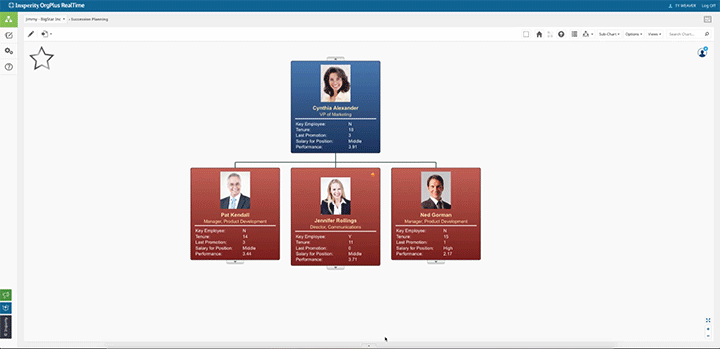 Draw on your data to develop your master plan
Create org charts that measure performance metrics from headcount, salary, performance ratings and more to better navigate mergers and acquisitions
Develop reorganization plans to envision potential changes to company structure
Use the succession planning tool to help determine how to recruit, develop and prepare employees for advancement
Easily share with your management team – publish your charts to your intranet, a network drive or distribute via email
Express edition
Essentials of org charting – create, view and
publish easy-to-read org charts in no time
Create custom views, including customized box and font colors
Access the application from any browser
Quickly import information into Express edition from an Excel spreadsheet
Publish and share in Excel, PDF, PowerPoint or HTML
Choose to chart 100, 250 or 500 employees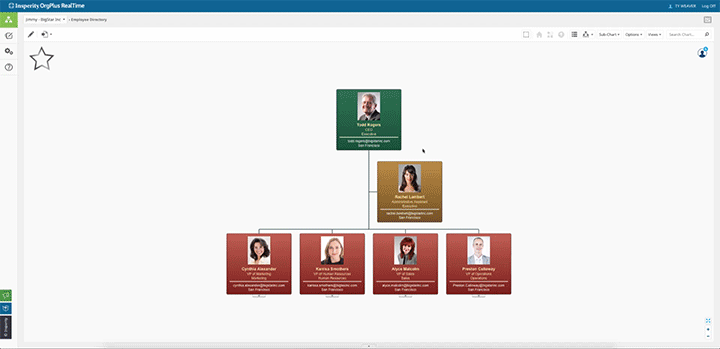 Take Your Business to the Next Level with OrgPlus RealTime Professional
Insperity OrgPlus RealTime Professional is a user-friendly organizational chart maker that allows you to visualize your company in a professional dynamic structure. In just a few clicks, turn key business data into actionable intel that will help you make smarter, more strategic decisions.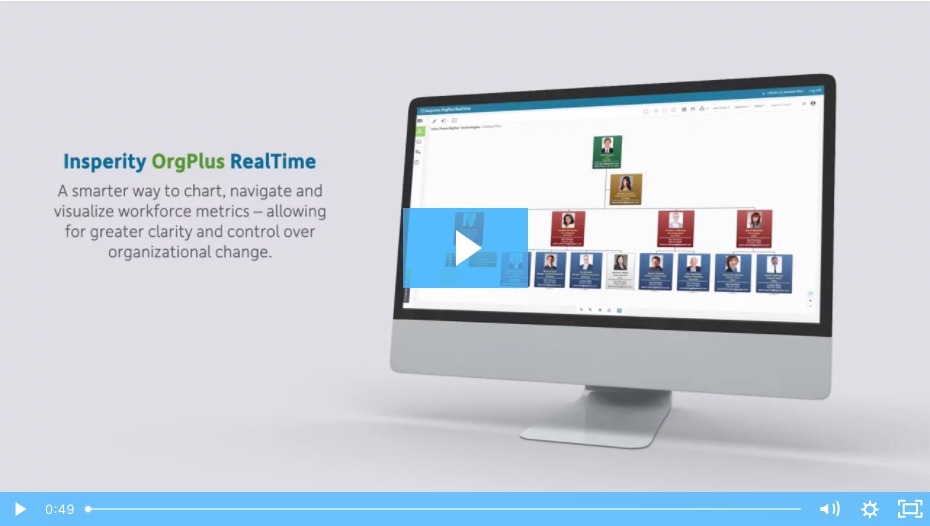 Request a demo of OrgPlus RealTime Professional